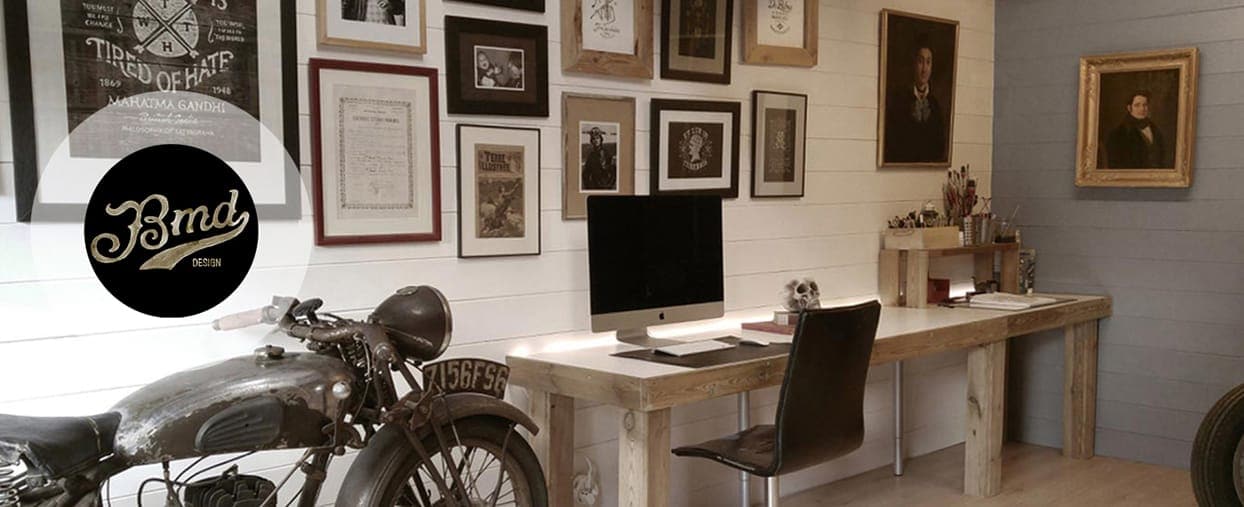 BMD DESIGN SINCE 2001

The clanking of machines is heard, the smell of gasoline penetrates our nostrils, the letters dance and stretch,
sips of black or blue ink, drawn by expert hands. BMD's work projects us into an authentic but resolutely modern universe. However,
behind these three letters hides Bruno, who created his studio in the early 2001s. From his training as a graphic designer in
the early 1990s at the Jolimont high school in Toulouse, Bruno has kept a love for artisanal before the computer.

Working manually takes him more time; but allows him to become one with what he creates, to stimulate all his senses.
Today, the handmade arouses a real craze, and many brands are turning to the values it conveys.
Authenticity, know-how, return to the roots; craftsmanship reassures and secures.
In a society in crisis marked by individualism and frantic rhythms, the handmade humanizes, like a supplement of soul
Logos, typos, pictos, Bruno does and remakes; trace; eraser and ink, always pushing its quest for referenced graphics even further.
In order to feed his old school visual vocabulary.

His creations are inspired by the industrial archives he unearths in flea markets and libraries.
Constantly on the lookout for the slightest signs or typographic clues, it lists them, classify and group them.
It is then passing through the hand, that he reclaims them.








SELECT CLIENTS

Age of Glory / Apple / Birkenstock / Brema / Burton snowboards / DS Citroen/ DePalma / Fuel / Levi's / Lucky Brand
Micromania / Mulberry / Nike / Oxbow / Ride 100% / Reebok / Ripcurl / Roland Food / Starbucks / Tank / Tudor / Ubisoft / Upland
The Farm Beyond / Barrel House / Motor Limited / Kooper Family / Hard Case Performance / Golden Cleat / Moto Heroes
Scalpers / Hurley / Aces / Tech'xas / Quiksilver / Barnyshop / Brett / Hys & Los / Mondo Cozmo / HJC Helmet / Moto Heroes
Antique Archeology / Aromeister / Kalletka / Oyster / Poet Bar / Schott / Two Lanes / Wulf Casting / Blank Games Co.


CONTACT & INQUIRIES

bmd@bmddesign.fr


FOLLOW

Instagram - LinkedIn - Behance




©2001 - ©2023 BMD Design / FRANCE / ALL RIGHTS RESERVED